 Welcome to our cattery!
My name is Marina Yurskaya, and I am breeder of scottish fold and scottish straight kittens and a proud owner of a KISS'A'FOLD cattery, located in Dallas Fort-Worth area, Texas.

We are a small , home based cattery breeding Scottish Fold and Scottish Straight kittens. Our goal is to produce the best amalgamation of health, stemperament, and consistent type. Our scottish fold kittens are raised with love, literally underfoot, in a clean and healthy environment. So if you decided to buy a scottish fold or a scottish straight kitten, you are at the right place! All our breeeders are high quality, healthy and were awarded with number of titles at the local and international cat shows.

Scottish fold cats are an adorably unique breed suited to every age, life style, and living arrangement. Why?

First of all, because of their unique beauty! That baby face will melt your heart . They have bright round soulful eyes, plush coats and a body shape that makes them look like a small, cuddly teddy bear.

Second - is their magnetic personalities and keen intelligence. Scottish Folds are smart and loyal to their family. They always like to be around people, following them from room to room. Some can learn cute things like how to open doors and drawers. Some eat and drink with their paws. They like to sit in front of windows and watch the world go by. They will wait patiently for you to come home from work or school, and greet you with such a happy face once you get there. They are very devoted to their owners and not agreeable about staying with strangers for long. They get along well with children and other pets as well.

We breed not only Beauty and perfect health in our kittens, but also a great personality. In our breeding program we don't use cats with behavior disorders, like aggression. There are no cages. All our pets are part of the family. We give them lots of tender loving care and they pay us back with the same.
Content copyright. Kiss A Fold. All rights reserved.
This cattery has not been inspected by and is not endorsed by The International Cat Association, Inc.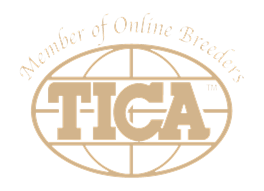 The sweetest face ever