Content copyright. Kiss A Fold. All rights reserved.
This cattery has not been inspected by and is not endorsed by The International Cat Association, Inc.


The sweetest face ever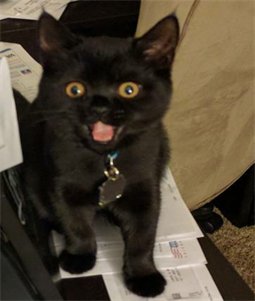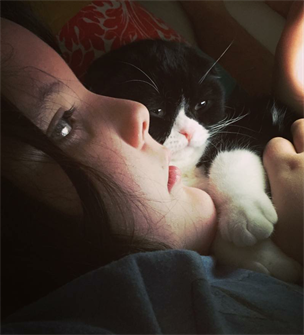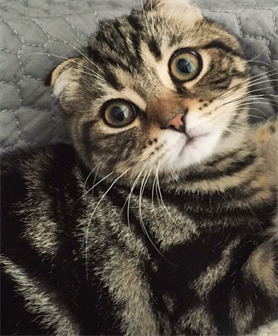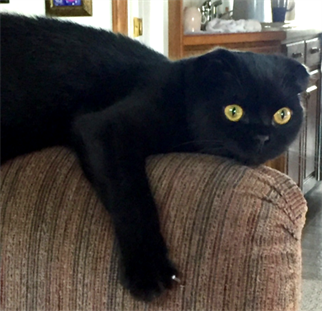 Ariel and Shadow (St.Louis)

Such awesome and amazing people. We traveled several states to come and pick up our sweet Scottish fold Shadow from Kiss'A'fold and even several months later always they answer any questions I have no matter how silly they may seem. Very sweet and kind people. If we ever decide to get another Scottish fold kitten - it will definitely be from Kiss'A'fold and it's owner Marina. Thank you for my sweet Shadow!
Isabelle, Mimi, MiuMiu, Phoeby and Bubbles
Marina and Alex are one of the most loveliest and kind people we've ever met! We went by their cattery several times to play with their kitties, and could see that their dedication and affection reflect on their kitties. So we ended up "catnapping" not one, but two kittens from them (if we could we would take all of them, … and all their cats, just kidding, Marina). We ended up taking 2 straight ears kittens, at different time interval, because these two kitties were utterly irresistible that turned our hearts into butter :) . Both kittens are the sweetest little babies, including one super cuddling purr machine (the 'activate with touch' version), who follows the other sweet cutie, who follows us around (can you imagine now?). And, we don't know how Marina does it, but these kittens have the sweetest temperament we've ever encountered, we keep being amazed of how they tolerate being squeezed (gently of course) on their paws, tails, cheeks, and getting their bellies rubbed as well, etc etc etc. Too precious! Oh, and their silly antics when they're playing. … It's ok, sweeties, go ahead and be silly and disturb my work because you are so so so cute, omigod, so soft, let me pick you up and kiss your ears, sweet babies…(thank the kitties for interrupting my typing or I'd go on and on and on…)









Lauren and Hootie (Houston, Texas)
My experience with Marina and her cattery has been great! My boyfriend and I took home one of her sweet kittens and we're in love. He's been very adaptable and has turned into quite the cuddler. He has the best temperament and he's been so much fun to have in our home! Marina cares so much for her cats and it really shows. She loves each and every one of her kittens and the fact that ours has been such a loving little guy is a testament! We would definitely work with her again!





Terri: Winston and Lucy (Texas)

I highly recommend Kiss' A' Fold Cattery! After hours of researching Scottish Fold catteries in Texas, I chose Kiss' A' Fold for many reasons:

1).
Their breeder cats are gorgeous! They have excellent Pedegree credentials and have won many awards in TICA (International Cat Assoc.) shows & competitions.

2).
On their website is a link to "Previous Litters". I must admit I looked at this link many many times! So much cuteness can be found here!

3).
I was attracted to the fact that they are a small cattery which indicated to me that this allowed them to spend quality time with their breeder cats and kittens.

4).
Communication was great! My inquiries and questions were always answered promptly.

5).
Once I selected my kitten, Marina & Alex invited me into their home so not only we could meet, but I could begin bonding with my precious Winston!
Marina & Alex are loving kind people. They pour their hearts and love into each and every one of their cats and kittens.

Cynthia and Gunther (Texas)

I just wanted to say how much we love him and how beautiful he is. I mean the whole experience of getting Gunther was awesome, he's so amazing and gentle! We could tell by his sweet personality and his desire to be with us was a reflection on the care you gave him. All of the kittens were so beautiful and it was a tough choice, but we adore him. If anyone is considering adopting from ScottIsh Fold USA, do not hesitate! These kittens are beautiful with the sweetest temperaments.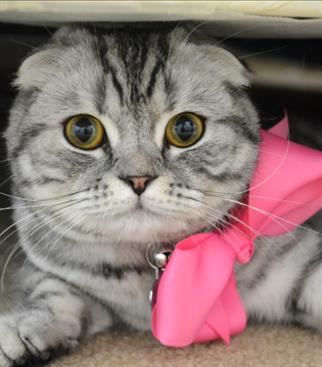 Maria and Priscilla (New York)

Inviting a furry friend into your life is in itself a big decision. Big decisions always require careful thought, and in my case, a lot of research. I can honestly say that Marina at KissaFold cattery, has been everything and more that I could have asked for in a breeder. She was there with me every step of the way, even before the kitten I ended up getting was born! She answered all of my questions, consoled my concerns, and gave me invaluable advice. Marina was a great communicator throughout the entire process, updating me with pictures and news about my kitty (follow her on Instagram @yu_marinka). She makes sure to have an ethical cattery and is genuinely concerned about the health and wellbeing of her own cats, as well as the kittens. One of the best things Marina did was get my kitten used to having her claws clipped. Now it's very easy for me to maintain my cat's grooming process, since she was trained from birth. Marina's care for her kittens goes well beyond when you take them home. My cat is now over 1 years old and I still call Marina for advice. I would recommend KissaFold cattery to anyone who is looking for a Scottish Fold kitten. This is a breeder who loves her job and cares about every kitten. Your kitten will be born into a family environment, surrounded by love and lots of cats! What better way to grow and socialize before you get to take them home